Voir cette page en français

Succès souvenir
Produce by Woope L'Aïe
7 Titles in French - Français produce by Woope L'Aïe
Catalog # WA1823
Format: VHS (NTSC)
This product is discontinued. Please select a link on this page to make another search.
International delivery, Canada, United States, France, United Kingdom, Australia, Europe... for more than 200 countries.
VHS NTSC
Cassette vidéo de karaoké en français
Le VHS-NTSC de karaoké est une cassette vidéo avec les paroles qui s'affichent sur le téléviseur. Les abréviations VHS et NTSC sont pour 2 standards vidéo:
VHS est l'acronyme de Video Home System ou plus simplement la cassette vidéo conçu pour un usage domestique.
Le standard NTSC a une résolution de 525 lignes horizontales et est conçu pour fonctionner principalement en Amérique.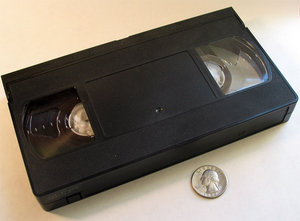 Pour un meilleur résultat il est préférable de brancher votre système de son à votre lecteur de cassette vidéo.
Note spéciale concernant le karaoké: Les choeurs et parfois la mélodie sont toujours enregistrés avec la musique sur les bandes sonores de karaoké de qualité.
Search by Musical Style
Search by Language
Do you recognize the name of a manufacturer?
Links for Kits
Search by Decade
Search by Year
Good research!
Legend
The music is recorded in studio with professional musicians. The soundtracks are top quality and designed primarily to do karaoke and get hours of fun. Both the fans and professionals love the karaoke music for its realism and accompanying quality.
To complete this realism choirs are present if required, as the original song. Sometimes, but rarely some songs may contain a melody, the melody is very useful for amateur singers of karaoke.
For the same title several versions are available, the following glossary will help you differentiate between versions.
[+]guide vocal : The indication "[+]guide vocal" indicates a recording with the presence of the main voice and if there is a backing vocalists, this version is designed for learning to sing the song.
[+]harmony : Recording with harmonies. Note that several titles include the melody without this being specified.
Thank You!
Important information: Prices and order are in Canadian Dollars "CAD" (currency converter). Year and music style are an indication only. Picture, language, list of titles and spelling are as faithful as possible but could differed from the product. The songs offered are the highest quality available. These are professional re-creations and not renditions by the original artist.
All rights reserved © www.karaokeworld.com 1997-2021. A branch of Karaoke Planete®
Web Services ☎ 514 527‑2653